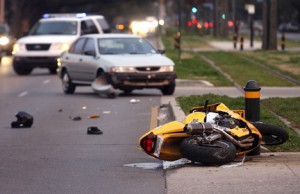 There are preconceived misconceptions regarding motorcycle riders as "daredevils."  Many times jurors assume that the injured motorcyclist must have done something wrong to have gotten hit.  We have been representing motorcycle victims and their families for over twenty years.
Attorney Gary A. Kessler has successfully represented hundreds of people injured in motorcycle accidents and traffic collisions for twenty-five years. This experience has given us the legal expertise and financial resources to handle our client's cases to archive the best maximum results in each of our client's classes.
We advocate the rights of motorcyclists, drivers of scooters and vespas.  As the Plaintiff (victim) of a motorcycle accident case, typically it is the Plaintiff's responsibility to prove the following:
That the driver did not use due care when operating their car, truck or bus;

The negligence of the driver was the cause of the (motorcyclists) accident; and

Damages were suffered by the motorcyclist and/or their heirs.
Many times car drivers simply do not see motorcyclists on the highway and they cross into the motorcyclist's lane, seriously injuring or killing the biker.  Often times, the car's driver(s) fail to yield the right of way to the motorcyclist.  There are many cases where the automobile driver is speeding or under the influence (DUI).
If you have been involved in a California motorcycle accident you may be entitled to compensation by the negligent party's insurance company and/or your own if the negligent driver was uninsured or under-insured. Never proceed with a negligence claim without first obtaining legal advice from an experienced California lawyer who knows how to deal with the insurance companies and will make sure you receive maximum compensation for your injuries and damages.
California motorcycle accident lawyer Gary A. Kessler will promptly investigate the crash, determine fault, and seek to recover all legal damages.
Regardless of who was at fault in the accident, victims should immediately seek the counsel of an experienced motorcycle attorney to protect your legal rights. Within the first week, important physical evidence can be lost or destroyed and witnesses may become hard to find.
What You Should Do If You Or A Loved One Has Sustained Injuries Or Death In A Motorcycle Accident:
Consult with an experienced attorney;
Contact law enforcement immediately and request that a police report be made;
Keep copies of all medical bills and records;
Do not release your medical records to the insurance company yourself;
Take pictures of your injuries and damage to your motorcycle;

If the injured person (or decedent) was employed keep a record of economic loss (lost wages); and
Keep a record of all expenses related to the accident (i.e., motorcycle damage including towing expenses, medical bills, future medical bills, all wage loss information and funeral bills).
Demand accountability from those responsible for the motorcycle accident. Many times the insurance companies will play "hardball" if you try to settle the case yourself or you have employed a lawyer who does not have the litigation experience to handle such a complex case. We at the Law Offices of Gary A. Kessler have twenty-five years of litigation experience and know how to handle the insurance companies to your advantage. We are prepared to front all costs required for the necessary investigation and expert witnesses needed to prepare your case for trial. So contact the Law Offices of Gary A. Kessler today for a consultation.
The laws regarding motorcycle accidents are complex and include many facets of the law.It is vital to surviving family members to seek the advice of an experienced motorcycle accident lawyer such as Gary A. Kessler at the Law Offices of Gary A. Kessler to protect your rights and those of your loved ones.
The California  motorcycle accident attorney Gary A. Kessler and the Law Offices of Gary A. Kessler are compassionate and fully understand that you are attempting to cope with extreme serious injuries associated with a motorcycle accident. Such accidents can lead to catastrophic injuries or even death. The Law Offices of Gary A. Kessler carefully selects its wrongful death and motorcycle accident cases so that we may give you (the client) the substantial personal attention necessary to obtain a successful result for your case.
The Law Offices of Gary A. Kessler is prepared to front all costs required for a thorough investigation and top expert witnesses to prepare for the trial of your case. As in all motorcycle accident and serious personal injury cases, we advance all legal costs to prepare and present our client's claim, and receive for our services only a percentage of what we recover for our attorney fees on their behalf. Upon settlement our costs shall be reimbursed to us from the gross recovery. If there is no recovery, no attorneys fees or costs are owed to our firm. Contact the Law Offices of Gary A. Kessler today so we can preserve the evidence and demand compensation and accountability from the responsible parties.
If you have been seriously injured or a family member has sustained fatal injuries from a motorcycle accident you need to contact the Law Offices of Gary A Kessler or another experienced law firm immediately to protect your legal rights and preserve the evidence.  The laws and time limitations can be complex so protect your legal rights by contacting the Law Offices of Gary A Kessler today.