For over twenty-five years Gary A Kessler has represented the seriously injured as well as wrongful death heirs (i.e. those who have lost a beloved family member) in an automobile vs. tractor-trailer rig(s) (Big Truck) collisions.  We specialize in difficult automobile vs. tractor-trailer rigs (i.e., tractor-trailer rigs and big rig trucks) collision cases.
According to the National Highway Traffic Safety Administration (NHTSA) there were 6.3 million traffic accidents reported by law enforcement last year, in which over 41,000 people were killed and over 3.2 million people sustained injuries.  The most common causes of tractor-trailer rig and trucking accidents are due to the following: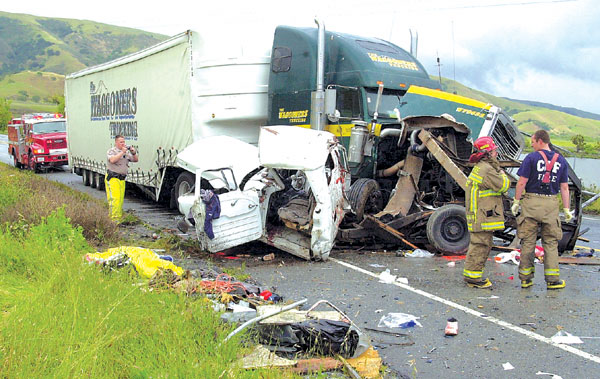 Drunk driving
Driving while drowsy
Reckless driving
Speeding
Driver fatigue
Truck overturns
Backing up
Brake failure
Transporting heavy equipment with trailers
Overloaded trucks and/or trailers
Loads that shift weight
Semi truck jackknife in traffic
Poor and dangerous road conditions
Cell phone misuse
Mechanical failure
DUI
Severe injuries and fatalities occur in a truck (big rig) accident.  Blunt head trauma, spinal cord injuries and amputations are common injuries associated when trucks carrying heavy loads collide into other cars.  The Law Offices of Gary A Kessler represents trucking victims throughout California killed or seriously injured in wrecks caused by truck driver negligence.  Our office takes immediate action, conducting our own investigation, consulting with nationally known accident reconstructionists, interviewing eyewitnesses and obtaining the truck driving records.
Due to the fact that the trucking industry is regulated by state and federal law, these trucking firms are required to follow procedures to ensure the safety of others.  It is important that you hire experienced trucking accident lawyer Gary A Kessler who has handled personal injury cases involving truck accidents for twenty years and has the comprehensive knowledge of the trucking industry.
At the Law Offices of Gary A Kessler we obtain all evidence from a number of vital sources, including the following:
Review truck driver's log book to see if sleep deprivation or overtime was a factor in the accident
Review the truck's maintenance records to determine if mechanical failure or design defect of the truck was a factor
Verify if reflector(s) and lighting on the truck were in compliance with state and federal laws
Consult trucking company as well as DMV (nationwide records when applicable) pertaining to truck driver's drug and alcohol tests
Obtain on board computer of the truck to determine speed, braking and sleeping
Consult numerous accident reconstructionists and trucking experts
Obtain all law enforcement agency reports (i.e., CHP, Police Department, Sheriff's Department, MAIT Team, etc.)
In Defendant, et al. v. the Estate of Doe Trucking, et al., Plaintiffs filed in Nevada, (which is the only state which still has a long arm statute) due to Nevada's favorable wrongful death damages statutes (joint and several liability for special and punitive damages).  Defendants attempted vigorously to have the trial moved to Barstow, California where the accident occurred.  The Nevada Supreme Court heard Plaintiffs oral arguments regarding "forum non-conveniens" and ruled in Plaintiffs favor, so the trial proceeded in Clark County, (Las Vegas) Nevada.
A tractor-trailer rig traveling eastbound on Highway 58 (in California) was transporting three seven and one-half ton (7-1/2) massive concrete pipes which were loaded in a pyramid position by Northwest Pipe.  As Defendant truck driver attempted to negotiate a curve, the 4×4 dunnage (wood) supporting the pipes penetrated through the flatbed trailer's wood floor, causing the pipes to shift which caused the four inch straps to break off.  The pipes became dislodged due to inadequate loading, inspection, defective/worn straps, therefore, the pipes were ejected off the flatbed landing 150 feet in the opposite direction of traffic, landing directly on top of the Nissan Minivan, killing decedants upon impact.  Plaintiffs proceeded to trial in Clark County, Nevada (Las Vegas) After two and a half years of litigation and nearly one month in trial, the Law Offices of Gary A Kessler was responsible for negotiating a $10,500,000.00 settlement in a multi-party wrongful death case.  Our case received global media attention and was covered by the L.A. Times, S.F. Chronicle, U.S. News, Las Vegas Review Journal, Orange County Register, as well as by CBS, NBC, and ABC.
In the Estate of Doe v.  Ambulance Company, Medical Center and Security Company, a confused woman (who had wandered into the hospital emergency room but was not a patient) escaped from a hospital, stole an ambulance, ran a red light crashing into a vehicle which our client's son was a passenger on his way to church.   Defense attorney for the ambulance company bragged "we're never going to pay, there is no liability for keys left in a vehicle."  Additionally, defense attorney for the hospital boasted "she (psychiatric woman) was never a patient, we are not responsible for her actions."  The hospital, ambulance company and security company all denied liability.  On the eve of trial all Defendants (ambulance company, hospital and private security company) contributed to this confidential settlement, well in excess of $1,000,000.00.  The case received both national and local media coverage for the "stolen ambulance case!"
Law Offices of Gary A Kessler provides sophisticated and innovative legal strategies for almost any type of fatality, wrongful death and/or serious injuries.  We not only handle wrongful death and serious injuries but also traumatic brain injuries.  Our office has undertaken difficult to next to impossible cases and prevailed, convincing the skeptical insurance companies of the merits of our client's viable claims.  From stolen vehicles, to tractor trailer rigs which have lost their loads, to professional truck drivers under the influence who have fallen asleep behind the wheel, to backing up over a Plaintiff wife and killing her, our office has represented hundreds of clients in truly tragic circumstances.  Many times the official police report does not outline the true circumstances of what has occurred.  Our office many times has discovered witnesses which law enforcement neglected to interview and have turned the case around in favor of our clients.
Too many lawyers rush to simplistic results only looking at the bare bones insurance policy of the Defendant truck driver.  The Law Offices of Gary A Kessler will consult with you about all of the potential defendants (i.e., truck driver, the contracting party for the load being delivered, the party who loaded the truck, owner of the trucking firm,etc.), whether the roadway created "dangerous conditions" for the driver involved, were there steering and/or brake failure, did the restraint system operate free of defect, did the fuel tank fire cause the majority of injuries, etc..
If you or a loved one is involved in a Tractor Trailer Rig (Big Truck) accident:
Insist that a report is filed by the Police Department, California Highway Patrol, or Sheriff's Department;
Obtain essential information (i.e., name, address, insurance information, vehicle license number and driver license number of any and all persons involved in the accident);
Photograph the accident scene (if possible) as well as all visible injuries;
Shut up!  Talk to no one about the accident or your injuries other than your attorney or doctor, never to an insurance adjuster or insurance investigator.  Do not volunteer a statement to any insurance company;
Sign absolutely nothing without consulting a lawyer;
Seek medical attention immediately and keep a diary of your level of pain;
Keep all records for all medical expenses and/or funeral bills and wage loss records;
Contact the Law Offices of Gary A Kessler an experienced law firm immediately to protect your rights and preserve the evidence!
Demand accountability from the trucking company.  We at the Law Offices of Gary A Kessler have handled complex trucking accident cases for twenty-five years.  We have the litigation experience to handle complex trucking liability cases.  We are prepared to front all costs required for the necessary investigation and expert witnesses needed to prepare your case for trial.  Remember, the trucking industry are a formidable foe and must be fought against aggressively.
The laws regarding wrongful death/"trucking accident" cases are complex and include many facets of the law.  It is vital to surviving family members to seek the advice of an experienced wrongful death/"trucking accident" lawyer such as Gary A Kessler at the Law Offices of Gary A Kessler to protect your legal rights and those of your loved ones.
California trucking accident attorney Gary A Kessler and the Law Offices of Gary A Kessler are compassionate and fully understand that you are attempting to cope with extreme grief and sorrow associated with the loss of a loved one.  The Law Offices of Gary A Kessler carefully selects its "trucking accident" cases so that we may give you (the client) the substantial personal attention necessary to obtain a successful result for your "trucking accident" case.
The Law Offices of Gary A Kessler is prepared to front all costs required for a thorough investigation and expert witnesses to prepare for trial of your case.  As in all wrongful death and serious personal injury cases, we advance all legal costs to prepare and present our client's claim, and receive for our services only a percentage of what we recover for our attorney fees on their behalf.  Upon settlement our costs shall be reimbursed to us from the gross recovery.  If there is no recovery, no attorneys fees or costs are owed to our firm.
If you have been seriously injured or a family member sustained fatal injuries involving a tractor-trailer rig you need to contact the Law Offices of Gary A Kessler or another experienced law firm immediately to protect your rights and preserve the evidence.  The laws and time limitations can be complex so protect your legal rights by contacting the Law Offices of Gary A Kessler today.